Business Auditing Services
Maximize your efficiency and profitability with our customized Business Auditing Services. Our services will help you elevate your business to new heights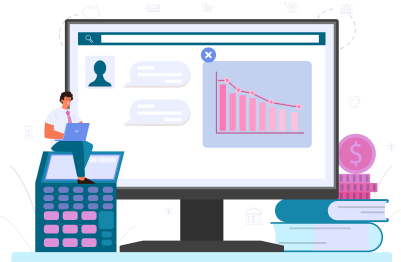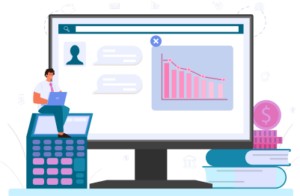 Why Do You Need Business Auditing Services?
Business audit services for companies, help ensure compliance with laws and regulations, assess financial performance and pinpoint areas for improvement. An audit serves as an independent evaluation of a company finances, operations and controls. Audits provide invaluable insight into a company's operations, helping detect any signs of fraudulent or mismanaged practices that could be hindering ethical and efficient operation. 
They can also offer valuable information regarding their financial health uncovering risks as well as opportunities for expansion. Business auditing services are an indispensable resource for companies that wish to maintain transparency, mitigate risk, and ensure long term success. In essence, audit services play a critical role in maintaining transparency while mitigating risk for long-term success.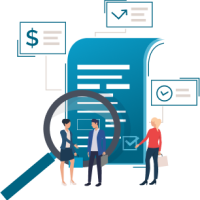 Leed software development offers high-quality audit services to businesses and organizations. As a software development company we offer  the confidence that organizations financial statements are presented accurately. Our risk based and progressive approach ensures that our clients receive objective presentations of financial information as well as qualified advice. Our professional auditing approach offers constructive observations to drive continual improvement while our bespoke services meet your exact requirements. Clients can rely on Leed experts for seamless audit management support tailored to each unique requirement ultimately contributing positively towards their business's success.
Our Business Auditing Process
Our business auditing process starts with a thorough examination of relevant data and documents to identify potential risks and issues.
We conduct a comprehensive review of company policies, procedures, and controls to evaluate their effectiveness and identify areas for improvement.
Our team investigates specific areas or issues that require further examination to gather evidence and validate findings.
We compile all relevant information and data into a report to be reviewed by stakeholders and management.
Our team conducts follow-up reviews to ensure that any identified issues or concerns have been adequately addressed and resolved.
See everything you get with your
Business Audit at-a-glance:
Our statutory audit services provide an impartial and independent assessment of an organization's
financial accounts. Our audit specialists review financial statements for accuracy and compliance
with regulatory guidelines.
Leed offers professional auditing procedures for buyers, investors, and private equity firms seeking comprehensive insights into target businesses for purchase or acquisition. Learn more about our financial due diligence capabilities.
Regulatory compliance
reporting
Our auditing solutions help organizations manage regulations, identify violations, and ensure long-term compliance. Explore our regulatory compliance reporting.
Discover our forensic audit-management support to identify and mitigate the risk of fraud or misappropriation of resources.
Our cost audit solutions involve an in-depth review of cost accounts, aimed at reducing production costs and enhancing profit growth.
In addition to our high-quality audit services, we offer service organizational control attestation, information systems, and controls assurance, and other auditing services.
We're all ears! Join and connect with us for exciting updates and exclusive content. We're committed to fostering meaningful interactions with our valued users. Be the first to know about our product launches, exclusive offers, and exciting updates. You'll receive regular emails filled with helpful tips, valuable information, and special perks for being part of our community. We're all about building genuine connections with our users.
Frequently Asking Question's ( FAQ's)
What is a business audit?
A business audit is a systematic and independent examination of a company's financial records, internal controls, and compliance with laws, regulations, and industry standards.
Why is a business audit important?
A business audit helps verify the accuracy and reliability of the company's financial statements and other financial information. It evaluates the effectiveness of the company's internal controls, which are designed to safeguard its assets and prevent fraud.
What are some of the most common challenges?
Business audits often involve analyzing a large volume of complex financial data, which can be time-consuming and challenging to manage. In addition to this auditors may encounter challenges in obtaining access to all relevant information and records needed for the audit.
What are the benefits of a business audit?
A business audit can provide several benefits, including:

Enhanced financial transparency

Improved risk management

Compliance assurance

Enhanced stakeholder trust

Opportunities for process improvement
What points to consider when hiring a professional auditing service?
Following points need to be considered while hiring a professional auditing service:
Look for an auditing service provider with a team of qualified and experienced auditors who have relevant expertise in your industry

Consider the reputation and credibility of the auditing service provider

The provider should adhere to relevant auditing standards and regulations

Consider the range of services offered. It should cover your requirements 

Look for an auditing service provider that takes the time to understand your business, its industry, operations, and risks
How do auditing services help businesses manage financial risks?
Auditing services help identify and assess potential risks. These services evaluate internal controls, and provide recommendations for risk mitigation. The auditors enhance financial transparency by ensuring that financial statements are prepared in accordance with accounting standards. They validate the accuracy and reliability of financial information through independent testing and analysis.
How does auditing services prevent fraud and other financial misconduct?
Auditing services conduct a comprehensive examination of a business's financial records, and internal controls to identify any irregularities. This is done to detect any inconsistencies that may indicate fraudulent activities. Different fraud detection techniques and data analysis tools are also used to identify patterns, and anomalies in financial data.