Want to expand your reach to customers all over the world? If so, e-commerce website development could be your perfect solution! E-commerce website development services allow you to showcase your products or services online. This makes them accessible to anyone with an internet connection.
What is an e-Commerce Website?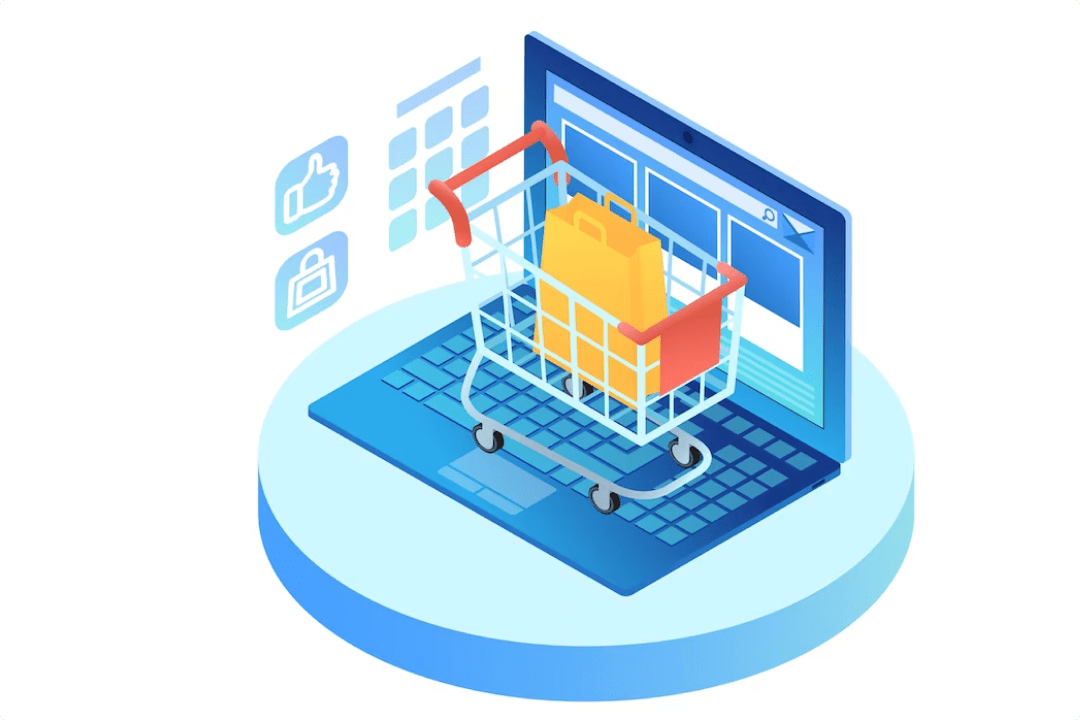 An e-commerce website is an online platform where businesses can showcase and sell products to customers over the internet. E-commerce websites allow customers to browse through products. You can add them to their shopping carts, and securely make purchases online.
E-commerce websites typically feature product catalogs, payment gateways to facilitate transactions, and shopping cart systems. These websites can range from simple online stores to more complex e-commerce platforms with advanced features. The features might include personalized recommendations, customer reviews, and loyalty programs.
Steps for e commerce website development
Following are the steps for developing e commerce website
Planning Phase
For ecommerce web design, you need to determine your business goals and objectives. Before you begin designing your e-commerce website, it's important to clearly define your goals. You should be clear about what you are hoping to achieve with your website. Whether you want to increase sales or establish yourself in the industry, you need to be clear about it. By identifying your goals, you can create a tailored website to meet your business needs. You also need to know your target audience and market. So you can create a website that speaks directly to them and addresses their pain points.
Know about your Competitors
Researching your competitors is an important step in designing an e-commerce website. Analyze their websites to see what they are doing well and their weaknesses. Focus on areas in which you can improve. Look at their pricing strategies, product offerings, and website design. By studying your competitors, you can gain valuable insights that will help you create a website that stands out from the competitors.
Design Phase
For e commerce website development, you can choose a website template or design a custom website theme. Website templates are pre-designed website layouts that can be customized to fit your brand. At the same time, custom website themes are designed specifically for your brand. Finalize your budget and the customization level you require when deciding. Be sure to add high-quality product descriptions and images. This will increase the likelihood of them making a purchase.
Development Phase
Build the website using a suitable e-commerce platform such as WooCommerce or Shopify. When building your e-commerce website, choose a suitable e-commerce platform such as Shopify or WooCommerce. These platforms provide a range of functionalities and features that are essential for creating an effective e-commerce website. Although e-commerce platforms provide many functionalities, you may need custom features and integrations to meet your requirements. So add custom features and integrations as required.
Content Creation
Create compelling product descriptions and information pages. Develop a content marketing strategy to attract and retain customers. Try to create a blog to provide valuable information to customers and drive traffic to the website. Optimize your content for search engines to ensure it is visible to your target audience. This involves including relevant keywords in your content and title tags and optimizing your meta descriptions. Ensure your website is mobile-responsive
Launching and Optimization
Launch the website and ensure everything is working as intended. You must monitor website analytics to track user behavior, traffic, and sales. Optimize the website based on data and user feedback. You need to continuously maintain and update the website to ensure it stays updated and relevant.
7 Qualities of a well-developed e-commerce website
Here are some key qualities of a well-developed e-commerce website:
User-Friendly
A well-designed e-commerce website should be intuitive and easy to navigate. You need to have clear menus, search functionality, and product categories.
SEO-friendly
Search engine optimization is crucial for driving traffic to an e-commerce website. The website should be designed with SEO best practices in mind. It should have clean URLs and optimized metadata.
Secure
An e-commerce website must be secure to protect customer transactions and information. This can be achieved through secure payment gateways, regular security updates, and SSL encryption.
Fast-loading
Slow page load time can lead to cart abandonment and frustration. A well-developed e-commerce website should load quickly, even if the internet connection is slow.
Scalable
Over time, a successful e-commerce website will likely experience growth and increased traffic. The website must be built with scalability in mind. Your website should be able to handle product catalogs and increased traffic.
Mobile-responsive
Now the majority of online shopping is happening on mobile devices. E-commerce websites must be optimized for mobile apps and provide a smooth user experience.
Analytics-driven
Tracking website analytics and user behavior is essential for optimizing and improving the website over time. The website should be set up to easily integrate with analytics tools like Google Analytics.
By focusing on these key qualities, an e-commerce website can provide a seamless shopping experience for customers. These qualities will also help drive sales for the business.
Conclusion
In conclusion, e commerce website development services require careful planning, design, development, content creation, and ongoing optimization. The website must be SEO-friendly and provide a seamless shopping experience for customers and drive sales for the business. It's essential to have a team of experienced professionals to ensure that your website is well-developed and meets your business goals.
Frequently Asked Questions (FAQs)
Q No.1 What are e-commerce website development services?
Answer: It refers to the professional services provided to businesses or individuals who want to establish an online store or enhance their existing e-commerce platform.
Q No.2 Which software is best for ecommerce website development?
Answer: When it comes to selecting the best software for e-commerce website development, there are several popular options available which are as follows:
WooCommerce
Shopify
Magento
BigCommerce
PrestaShop
Q No.3 Can I build an eCommerce website on my own?
Answer: Yes, it is possible to build an e-commerce website on your own, especially with the availability of user-friendly e-commerce platforms and website builders.
Q No.4 What is the cheapest way to build an eCommerce website?
Answer: WordPress combined with WooCommerce is the cheapest possible way to launch an eCommerce store if you already have a WordPress site
Q No.5 What are the 4 stages of e-commerce development?
Answer: Here are the four stages of e-commerce development:
Planning and Analysis:
Design and Development:
Testing and Launch:
Post Launch activities
Q No.6 What are the three types of e-commerce websites?
Answer: There are three main types of e-commerce websites based on the nature of transactions and parties involved:
Business-to-Consumer (B2C) Websites:
Business-to-Business (B2B) Websites:
Consumer-to-Consumer (C2C) Websites:
Q No.7 What are the three services of e-commerce?
Answer: Here are three services of e-commerce:
Online Retail
Digital Services
Online Marketplace
Q No.8 Which type of website is best for eCommerce?
Answer: The best websites for eCommerce are as follows:
Amazon.
Alibaba.
eBay.
Walmart.
Best Buy
Q No.9 How much does a Shopify website cost?
Answer: There are three main Shopify pricing plans to choose from. Basic Shopify at $29 per month, Shopify at $79 per month, and Advanced Shopify at $299 per month.
Q No.10 How do I set up an ecommerce website?
Answer: To set an ecommerce website you need to follow the given steps:
Select your perfect ecommerce platform.
Purchase a domain name.
Find a developer.
Pick your ecommerce theme.
Customize your ecommerce template.
Add your products.
Set up payment options.
Sort out your shipping settings.
Q No.11 Which online selling platform is cheapest?
Answer: The cheapest selling website depends on the fees charged by each platform. However, platforms like Facebook Marketplace and Craigslist don't charge any fees for selling, making them the cheapest options.
Q No.12 Why are eCommerce websites expensive?
Answer: E-commerce websites can be expensive due to factors such as development, scalability and performance requirements. Security, integration with third-party services, and ongoing maintenance also requires additional cost.
See More