Introducing the ultimate solution to your dinner-time dilemmas: the meal planning app! Bid farewell to the predicament of deciding what to have for dinner and say hello to a revolutionary meal planning app! No longer will you have to endure the incessant question of "What's for dinner?" Are you exhausted from constantly racking your brain for dinner ideas every day? Well, fret no more as the struggle of meal planning apps can now be alleviated with the help of highly efficient meal planning apps! It can be said that these free digital applications for meal planning have become quite a trend, and their popularity is well-deserved.
This meal planning app has completely transformed how you manage your kitchen. So get ready to simplify your life and save valuable time with this groundbreaking solution.
Read also: How to Choose Mobile App Development Company
What Is a Meal Planning App?
Now the question is what are meal planning applications and how do they word? To simplify, meal planning applications refers to mobile apps that help users to organize their meals on a daily or weekly basis. All of us do know that making healthy meal choices can be a challenge. We need food that is full of nutrition but it should taste good as well. Keeping a healthy and balanced diet is necessary.
This is where meal planner apps can help. These applications typically provide a wide range of features, such as extensive recipe libraries and meal suggestions. The apps also have the feature to generate grocery shopping lists, and customization options based on dietary preferences or restrictions.
Overview Of A Meal App
With the help of meal plan applications you can create different recipes with the ingredients you have on hand. Based on your meal plan you can decide your breakfast, lunch, dinner and snacks, and can get useful nutritional information. An overview of some of the important features that free meal planning apps should have is given below:
Personalized Meal Plans
Recipe Database
Grocery List Generator
Nutrition Information
Meal Calendar
Custom Recipe Creation
Integration with Grocery Delivery Services
Tracking and Progress
Social Sharing and Community
Smart Recommendations
How Does Meal Plan App Work?
The personalized meal plan app works on user preferences. With the help of such apps the process of organizing and scheduling meals is simplified for the users. Following steps will explain the working of meal plan apps:
The first step is to create an official account on the app so the user can access the additional features of the app.
Setting up your profile is a very important task. Users need to select preferences based on their diet and their needs. Also specify the allergies option if you do have any.
By setting your profile the app will provide information regarding the preferences.
Now the next step is to choose from a wide range of options that are available in the library. Users can search for recipes of anything they want.
Different categories are made in the library based on users preferences, cuisines, allergies and dietary options.
After selecting the desired recipes a meal schedule plan can be created. You can add your own recipes as well.
Another excellent feature is that the app also helps generate a grocery list that is based on your meal plan.
Users can also order groceries directly or with the help of grocery delivery services if available.
With the help of tracking services users can track their goals progress. Users can check the portions they eat on a daily basis. In this way users can calculate the calories intake easily.
Along with this some meal planning apps have the feature to integrate with different fitness apps. The fitness apps can gather data on physical health and can collaborate to give better meal planning results.
Choosing a meal planning apps will also help you save and like your favorite recipes. In addition to this, sharing recipes with friends is also possible..
6 Best Meal Planning Apps (2023)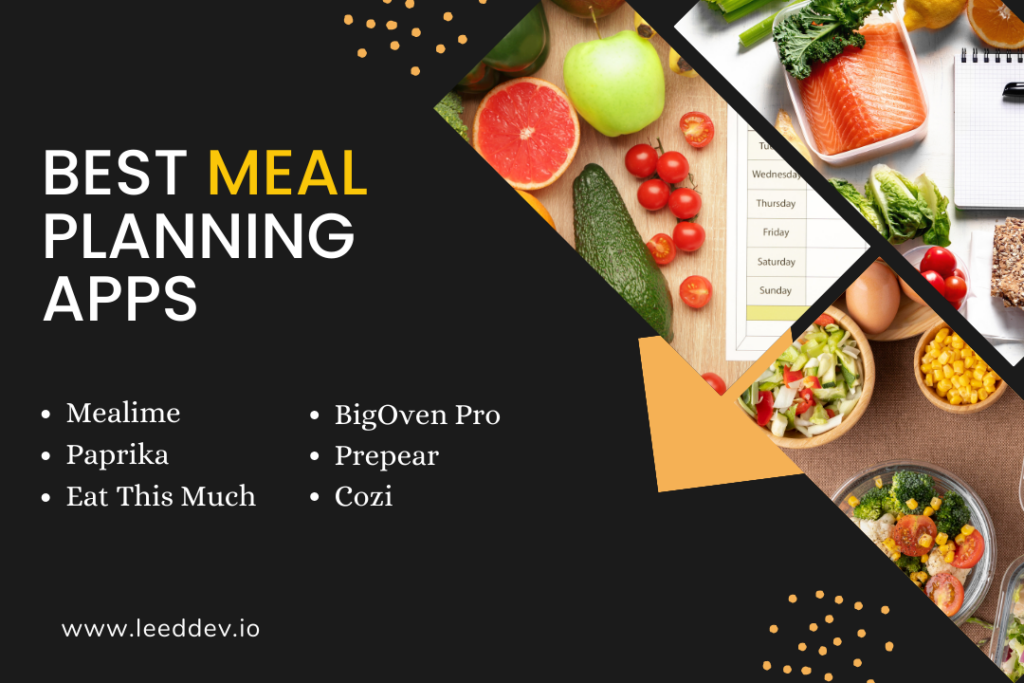 Following are some of the best meal planning applications where you can discover a world of delicious possibilities that cater to gluten free diets and reduce food waste. The apps will also guide you step by step in creating meals tailored to your dietary restrictions.
Mealime
Mealime is the perfect app for busy individuals seeking healthier eating habits. With curated recipes based on your preferences, you can choose meals that fit your dietary needs and be confident that they can be prepared in 30 minutes or less. The meal planning apps even generates a shopping list compatible with Amazon Fresh or Instacart for convenient delivery. Upgrade to Pro for additional features like more recipes, nutrition info, and meal plan customization.
Features of Mealime
Mealime offers a wide range of features which are as follows:
Getting personalized recommendations is a wonderful feature that the app offers.
Users can get a collection of nutritious and delicious recipes with the help of an app.
Allows users to create grocery list items.
The app also allows users to cater to various dietary needs based on users' various requirements.
Users can also get additional features like extra recipes and detailed nutritional information by adding to Mealime pro.
Pros & Cons of Mealime
The pros and cons of mealime app are as follows:
| Pros | Cons |
| --- | --- |
| Personalized meal recommendations | Manual recipe entry not available |
| Easy access to quick and healthy recipes | Limited customization options for recipes |
| Dietary accommodations for various diets | Dependency on internet connection for recipe access |
| Automated shopping list integration | Some features require upgrading to Mealime Pro. |
| Ability to import favorite recipes from the web | Doesn't allow manual addition of recipes |
| Convenient meal planning and organization | The upgraded version requires a monthly payment |
| Users can upgrade to Mealime Pro for additional features | |
Paprika
Introducing the Paprika Meal Planning App, a cutting-edge digital companion crafted to revolutionize your culinary experience. The app helps users handle the hassle of meal preparation and effortlessly create personalized meal plans. Paprika apps gives a ton of flexibility options and the best thing is that a free version of the app is also available. Users can curate a delightful collection of recipes, and simplify their grocery shopping endeavors.
Features of Paprika
Some of the features of paprika app are as follows:
Users can receive tailored made recommendations that are made on their preferences.
Now the users don't have to get confused in the market aisles. The app automatically generates a grocery list that is based on meal preferences created by the user.
The app allows the users to conveniently gather recipes on one platform.
Additionally, the app helps the users to import recipes from websites as well as manually create recipes.
Another feature of the paprika app is Meal Calendar Organization. The app helps the users to create meals on daily, weekly or on any specific dates. Drag and drop options are also available in the app. Simply, the app helps view the schedule conveniently just by a glance.
The app also synchronizes the users data on multiple devices.
Pros & Cons of Paprika
The pros and cons of the paprika app are as follows:
| Pros | Cons |
| --- | --- |
| Personalized meal suggestions | Learning curve for new users |
| Automatic grocery list generation | Lack of integration with certain grocery stores |
| Efficient recipe management | Limited free version with premium features |
| Convenient cooking tools and timers. | Limited social sharing options |
| Cross-platform syncing for data accessibility | No built-in nutritional info |
| Intuitive meal calendar organization | Inability to create custom recipe categories |
| Smart shopping feature for optimized trips | Occasional syncing issues across devices |
| Easy downloading capabilities | No recipe database |
Eat This Much
Eat This Much is a versatile meal planning app designed to revolutionize users' meal planning experience. The app helps generate custom meal plans from the database and is quite easy to use. By seamlessly integrating user-friendly features, the app aims to streamline the entire meal planning process, ensuring optimal balance and nourishment in every bite. The meal plans will align perfectly with your unique dietary goals, preferences, and restrictions.
Features of Eat This Much
The features of the app are as follows:
Personalized Meal Plans: The app offers personalized meal plans that are based on user's preferences and dietary goals.
Nutrition Tracking: Another feature of the app is nutritional tracking. This feature helps users to monitor their daily intake of calories of each meal so users can make informed decisions.
Reviews and Ratings: Enable users to rate and review recipes they have tried. The app provides a place for users to browse reviews, aiding them in making informed decisions about which recipes to try.
Dietary Preferences: This app is specifically designed to handle your diet. Whether the goal is weight loss or gain, personalization of the app according to your needs is possible. The app takes in account your vegetarian or gluten free preferences and aligns them with your daily life choices..
Import of Recipes: The app allows you to import recipes directly from the web as well as the manual addition is also possible.
Recipe Library: An extensive library of recipes is present that helps the users to choose from an array of options. The goal of the app is to suggest such recipes that will meet the expectations of users' taste buds.
Pros & Cons
The pros and cons of the Eat This Much meal preparing app are as follows:
| Pros | Cons |
| --- | --- |
| The app is calorie goal oriented. Users can monitor their calories intake. | Users need to upgrade to paid subscription for advanced features. |
| Offers personalized meal plans that are tailored to the goals of users. | The app isn't ideal for families that have varying nutritional needs |
| The app is easy to use even for beginners. | Dependency on accurate user input could be an issue |
| Consists of extensive research library from which the users can choose the recipe they like | The app does not generate grocery lists in the free version. |
| Extensive database system of packaged foods and restaurants is present | The cost estimates are also not always accurate |
| Offers portion control guidance as well | |
| Also has a barcode scanner for nutritional information. | |
BigOven Pro
BigOven Pro is a meal planning app that focuses on sharing useful meal ideas and recipes. The app consists of more than one million recipes in its database. BigOven Pro is a premium subscription service offered by BigOven, a popular cooking and recipe app. With BigOven Pro, users gain access to additional features and benefits to enhance their culinary experience. A free trial of the app is also available for a month. The app costs about $3 per month or about $25 yearly. BigOven Pro app is available on iOS, Android, web, macOS, Apple Watch and Windows.
Features of BigOven Pro
The features of BigOven Pro are as follows:
Expanded Recipe Library: With BigOven Pro meal planning app, subscribers gain access to an extensive and diverse library of recipes. The application offers a wide range of choices and adds more variety to their meal planning and cooking experience.
Advanced Recipe Search: Unlocking the power of advanced search filters and parameters, users can now refine their recipe searches on BigOven Pro. The app helps the users find the perfect recipes that match their preferences and requirements.
Priority Customer Support: BigOven Pro subscribers receive top-notch customer support. Enjoy the benefits of priority assistance, ensuring your inquiries and issues are promptly addressed and resolved by our dedicated support team.
Tailor-Made Grocery Lists: Personalize your grocery lists like never before with BigOven Pro. Add custom items to your lists and conveniently organize them into categories, making your shopping experience effortless and efficient.
Ad-Free Experience: BigOven Pro eliminates advertisements within the app, providing a distraction-free environment for browsing and exploring recipes.
Pros & Cons of BigOven Pro
The pros and cons of BigOven Pro are as follows:
| Pros | Cons |
| --- | --- |
| Intuitive meal planning options | Additional cost for Pro subscription |
| The app prevents your phone from entering sleep mode so that users can easily glance at recipes. | Requires internet connection |
| The attractive design of the app attracts the users. | Limited availability of regional recipes |
| Lower subscription fee than competing cooking apps | Learning curve for new users |
| The app offers Advanced Recipe Search so users can easily get the recipe they need. | Possible dependency on digital platform |
| Grocery list customization is another feature that the app offers. | Limited personalization options |
Prepear
Prepear is a meal planning app designed to simplify meal planning, grocery shopping, and recipe management. Many of the popular bloggers have partnered with prepear. So if you are planning to eat healthier than this app is an excellent option for you. The app features thousands of recipes from bloggers all over the world. With just a single click you can get a month worth of recipes from your favorite food blogger.
Features of Prepear
The Prepear app offers a range of features to simplify your meal planning process which are as follows:
Meal Planning: Create personalized meal plans for any duration, whether it's a week, a month, or longer. Plan your breakfasts, lunches, dinners, and snacks with ease.
Smart Grocery Suggestions: Get intelligent suggestions for your grocery list based on your preferences. Prepear can automatically add essential ingredients to your list, saving you time and effort.
Recipe Scaling: Adjust recipe quantities to accommodate different serving sizes. Whether you're cooking for one or a large gathering, Prepear ensures accurate ingredient measurements.
Cook Mode: Follow recipes hands-free with the Cook Mode feature. Keep your device in a safe spot and navigate through recipe steps with voice commands or by tapping the screen.
Collaboration: Share meal plans, recipes, and grocery lists with family members or friends. Collaborate on meal planning and make the cooking experience a team effort.
Cooking Timers: Set multiple timers to keep track of cooking times for different dishes. Prepear will alert you when each timer is up.
Meal Categories and Tags: Organize your meal plans and recipes by assigning categories and tags. This feature makes it easy to search and filter your collection.
Mobile and Web Syncing: Seamlessly synchronize your data across the Prepear mobile app and web platform. Access your recipes and meal plans from any device.
Pros & Cons of Prepear
The pros and cons of the Prepear app are as follows:
| Pros | Cons |
| --- | --- |
| Simplifies meal planning and consists of thousands of free recipes | Limited features are present in the free version. Users need to purchase the Prepear gold purchase. |
| Easy organization of saved recipes | Consists of advertisements in the free version of the app |
| Allows user to filter food preferences or restrictions | Limited recipe database when multiple filters are turned on. |
| Smart grocery suggestions with efficiency | Some users may prefer a more manual approach |
| Gives nutritional information on recipes | |
| Allows easy integration of app with other devices | |
Cozi
Cozi is another go-to meal planning app for families. It helps families keep their schedule organized. The app consists of reminders and appointments and family meal planning is the biggest part of the app. With the help of the app users can save and organize their favorite recipes. The app consists of a database where cozi's own recipes are stored as well as recipes from famous books and magazines are also available.
Features of Cozi
Some of the features of Cozi app are as follows:
Recipe Search: The app empowers users to explore recipes based on ingredients, cuisine, dietary preferences, or meal type. It offers a vast database of recipes to choose from.
Favorites and Personalization: Enable users to save their favorite recipes and create personalized collections. Provides recipe recommendations based on their preferences and browsing history.
Nutritional Information: Provides detailed nutritional information for each recipe, including calorie counts, macronutrient breakdowns, and allergies warnings. Different filters are also present which caters to specific dietary needs or restrictions.
Cooking Instructions: Display comprehensive cooking instructions for each recipe, including ingredient quantities, preparation steps, and cooking techniques. The app also utilizes visual aids such as images or videos for clarity.
Social Sharing: Allow users to share recipes, meal plans, or culinary achievements with friends and family through social media integration or in-app messaging.
Meal Reminders: Send reminders or notifications to users regarding upcoming meals, shopping requirements, or estimated cooking times.
Multi-Device Synchronization: The app also enables Multi-Device Synchronization. Users can access their meal plans, shopping lists, and favorite recipes across multiple devices by synchronizing data through an account
Pros & Cons of Cozi
The pros and cons of the Cozi app are as follows:
| Pros | Cons |
| --- | --- |
| Convenient platform for organizing and coordinating family activities, schedules, and appointments. | The cozi meal planning app has a limited free version. Advanced features require a paid subscription. |
| Consists of its own recipe database. Users can also add their own recipes. | Another issue is that the grocery list does not populate automatically. |
| Shared calendar option is also available. Users can create and share calendars as well with family members. | The free version of the app shows advertisements that some users find irritating. |
| An additional feature that the app offers is the "keep screen on". The feature stops the screen from turning off while you are cooking. | Limited number of recipes are present within the app. |
| Reminders and notifications are sent to users to keep them updated on their tasks. | |
| Cozi allows you to share the to-do-list with your family members so that everyone is on the same page. | |
How To Choose the Best Meal Planning App?
Choosing a meal planning app can be overwhelming due to the abundance of options available. However, you can take advantage of free trials and versions to test multiple apps and determine the best fit for your needs.
Consider the following key features when making your decision:
Recipe Database:
Opt for an app that includes a comprehensive recipe database if you struggle to find healthy recipes or need guidance on meeting your dietary goals.
Cost:
Meal planning apps come with various pricing structures. Before committing to one, carefully review the cost and choose an app that aligns with your budget and offers the features you require.
Nutritional Data:
If improving your nutrition intake or managing your weight is a priority, select an app that provides detailed nutritional data as part of its recipe database. This feature will assist you in making informed choices about your meals.
Ease of Use:
An effective meal planning app should be user-friendly and intuitive. To ensure it meets your expectations, take advantage of free trials and test the app's functionality before deciding to invest in premium features.
By considering these factors, you can find a meal planning app that meets your requirements, making the process more convenient.
Conclusion
In conclusion, meal planning apps have emerged as excellent tools for individuals striving to enhance their daily nutrition. With extended options available, the selection of the right app can significantly streamline your meal planning process. These apps offer a multitude of features, including vast recipe databases, detailed nutritional information, and customization options. Such functionalities enable users to discover and prepare meals that align with their personal preferences. Furthermore, free trials and versions allows users to explore multiple apps, ensuring they discover the perfect fit for their preferences. So get ready to embrace the convenience offered by these remarkable apps and effortlessly seize control of your health and vitality.
Read More