B2B multi cloud platform allows businesses to deploy and manage applications across different cloud environments. Choosing the right B2B multi cloud platforms is necessary so that the businesses can run their operations easily. With the help of B2B, it is possible to handle multiple cloud services simultaneously. To handle multiple cloud services from different public vendors at the same time, these platforms are used.
B2B multi cloud platform businesses use cloud services to support B2B operations. By using multiple cloud services, organizations can get access to a range of capabilities and services. The different cloud services included in B2B multi cloud environments are:
Infrastructure as a service (IaaS)
Platform as a service (PaaS)
Software as a service (SaaS) 
Read also: Optimize Your App Performance With Core App Dashboard
What is a Multi Cloud Platform?
In multicloud platforms, services are used from multiple cloud providers. Instead of relying on single cloud services multicloud allows distribution of workload. Single cloud services include that include Amazon web services, Azure, or Google Cloud. By using multi cloud platforms, organizations can optimize cost and increase security. All cloud models can be defined as single or multicloud, but it depends on the number of cloud servers organizations use.
What Is B2B Multi Cloud Platform?
B2B Multi Cloud Platform allows businesses to store and access data through cloud. Businesses can easily deploy and integrate apps across different cloud environments. This includes public, private, and hybrid cloud services. With the help of B2B multicloud platforms, it's easy for businesses to control where and when the services are hosted. Main advantage is that these platforms allow them to reduce vendor lock-in risks. It specifically refers to platforms that are tailored for business-to-business interactions.
Understanding B2B Multi Cloud Platform
In simple words, a multicloud platform with an intranet can be used in various ways to enhance IT organizations infrastructure. Multi Cloud utilizes different cloud services that are provided by multiple providers. B2B Multi Cloud Platforms businesses basically deal with the needs of business-to-business (B2B) interactions. In this platform, one company provides services or products to the others. Multicloud approach allows to take advantage of unique features, provided by different clouds. Some of the potential use cases of B2B multiple cloud platforms are as follows:
Cloud Resource Management
Allows management of multiple cloud services. Also provides a unified interface to centrally manage cloud resources. Easy task allocation and efficient cost control.
Application Development & Testing
B2B Multi Cloud Platforms also serve as a development or testing platform. Easy to buildor test platforms across multiple cloud platforms simultaneously.
Hybrid Cloud
With multicloud platforms, it's possible for organizations to build hybrid cloud architectures. Combines public services with private cloud infrastructure.
Benefits of B2B Multi Cloud Platform for Businesses 
B2B Multi Cloud platforms enable businesses to have access to different features and capabilities. Some of the main benefits of multi cloud platforms are as follows:
Allows organizations more flexibility in operations. they don't have to depend on one provider that provides limited capabilities.
Reliability is increased as businesses do not rely on a single vendor. If one cloud doesn't work, organizations can use different clouds for better performance.
Improved security is also a benefit which allows businesses to secure their data. Sensitive data can be kept in a more private cloud, whereas the open client part can be kept in another cloud.
For non critical workloads, organizations can use lower cost providers. Similarly, for critical services, organizations can spend their resources on vendors that provide higher quality services.
Key Features of B2B Multi Cloud Platform / Examples
When choosing B2B cloud solutions, there are multiple features that you need to consider. Some of the main points you need to look for are as follows:
All platforms should be able to integrate and interoperate. Platforms should also support API integrations.
Seamless transfer of data between different platforms.
Should have the ability to manage workloads effectively across different platforms.
Each vendor should compile with Service-Level Agreements (SLAs) so that they can meet your business requirements.
Security and Compliance are the two main points that you have to look for while choosing a B2B multi cloud platform. The vendors need to provide the required level of security.
Difference Between Single Cloud & Multi Cloud Platforms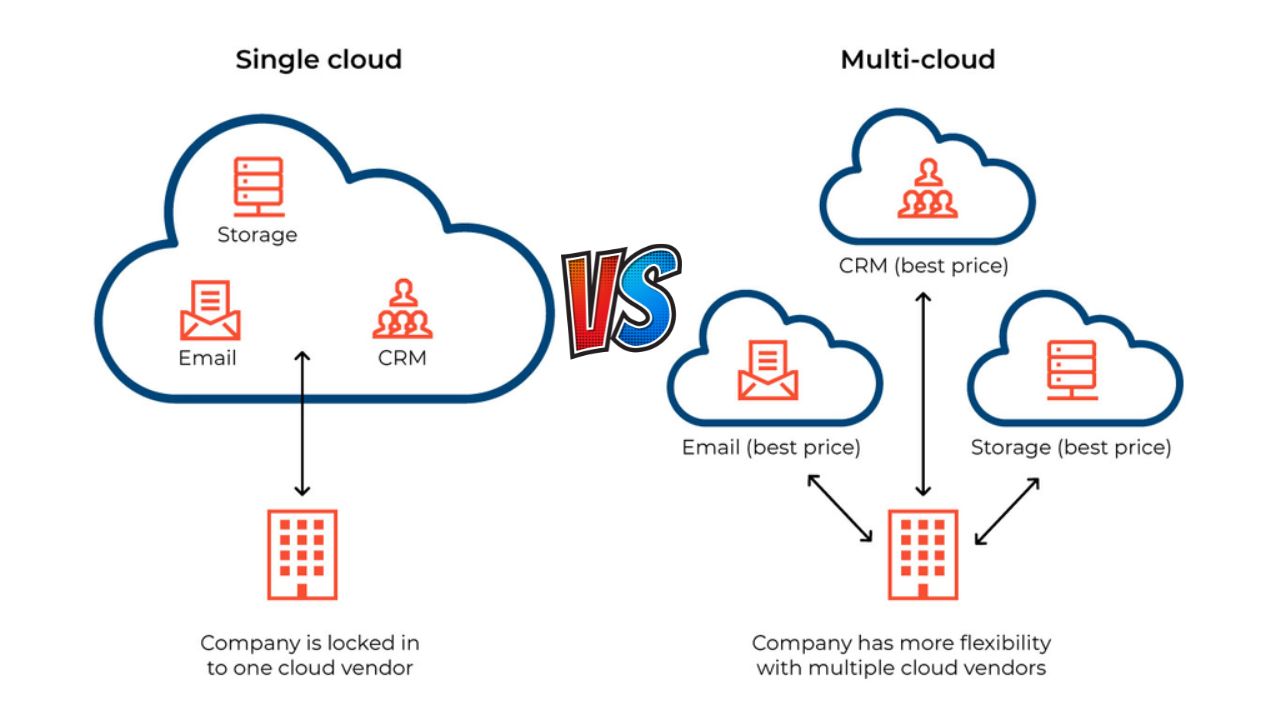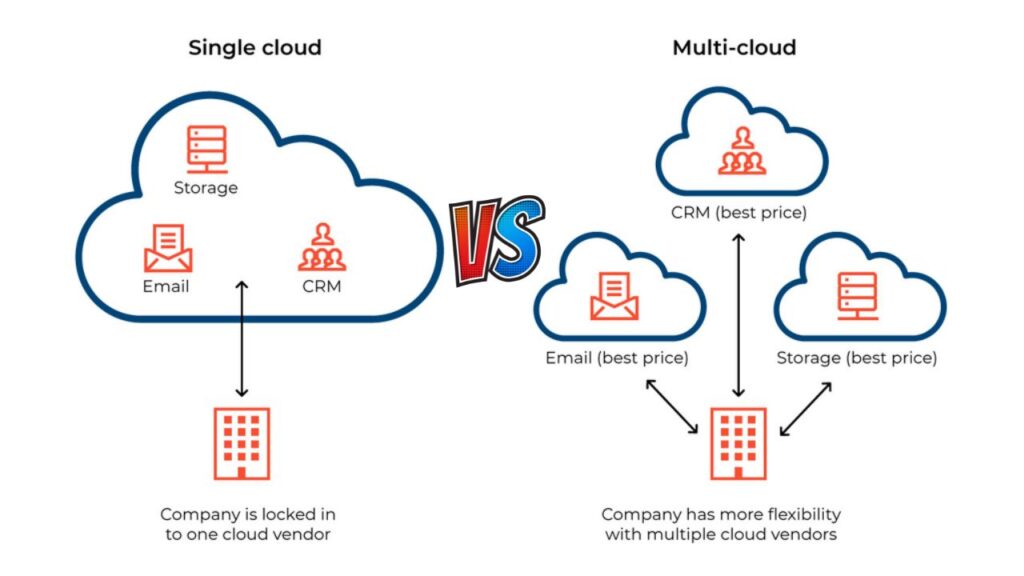 Main differences between single cloud and multi cloud platforms are as follows:
| Aspects  | Single Cloud  | Multi Cloud  |
| --- | --- | --- |
| Definition | Utilizes resources from a single cloud provider | Utilizes the resources from multiple cloud providers at the same time. |
| Vendor Lock-in | Higher risk of vendor lock in because of dependency on single provider | Lower risk of vendor lock in as dependance is on multiple providers |
| Data Recovery | Additional planning required for disaster recovery | Built-in redundancy across multiple cloud providers enhances disaster recovery |
| Cost Management | Easier cost management as there is a single provider | Complex cost management due to multiple providers |
| Redundancy and Reliability | Susceptible to outages or service interruptions | Improved redundancy and reliability |
| Features | Limited range of features | Access to a broader range of features and services |
B2b Multi Cloud Platform – Pros & Cons
To simply explain the pros and cons of the B2b Multi Cloud Strategy are explained in table form:
| Pros | Cons |
| --- | --- |
| Reduced cost | Various rule sets and systems |
| Increased compliance | Interoperability and portability issues |
| Exponential scalability | Risk of misconfiguration |
| Lower risks | Exposed attack surface |
| Improved user experience | Risk of lateral movement |
Top B2B Multi Cloud Platforms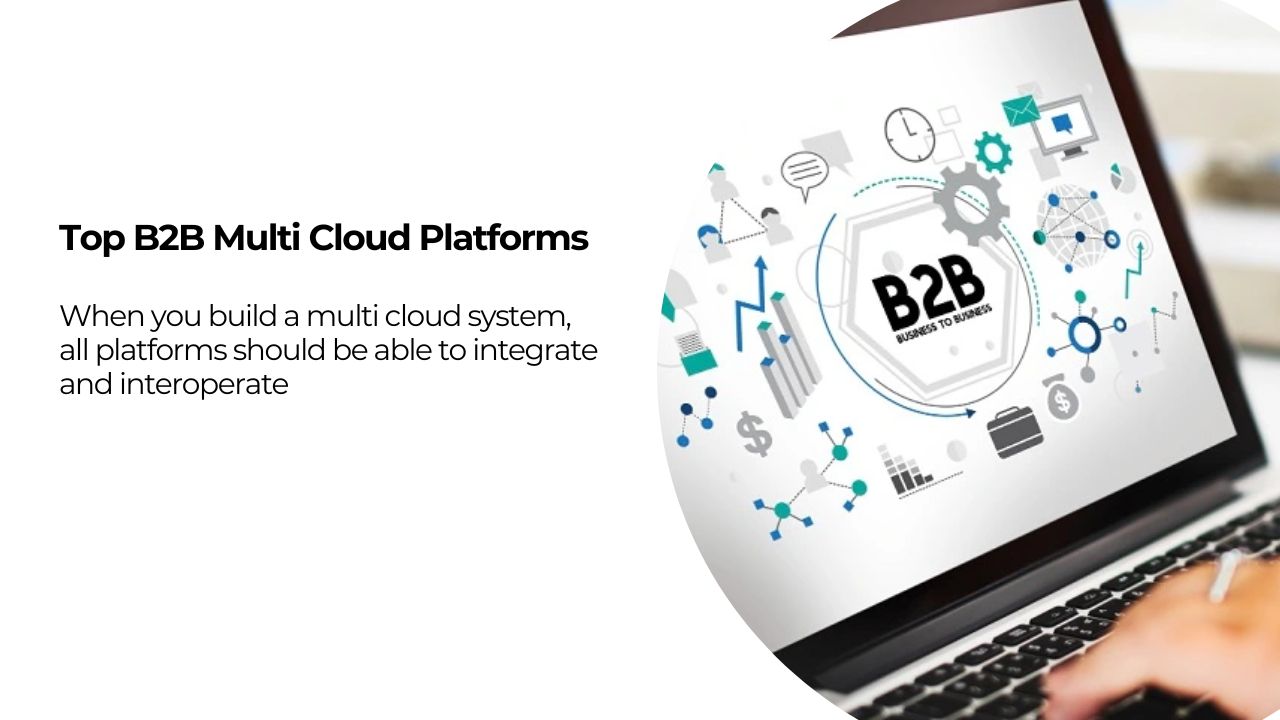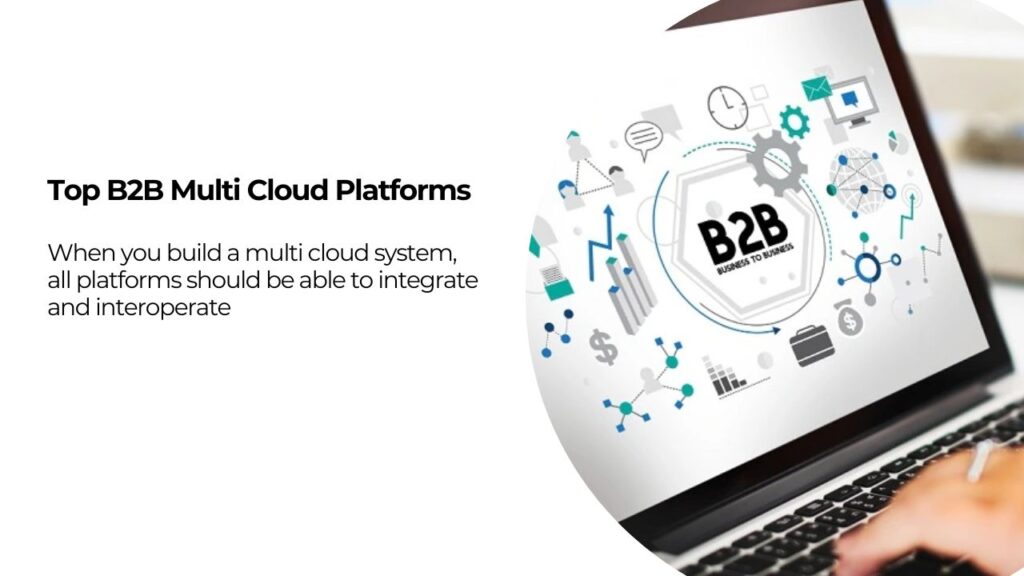 As technology is evolving, different organizations are using different multi cloud platforms. Some of the top B2B cloud platforms are as follows:
Amazon Web Services (AWS)
One of the most favored b2b multi cloud platform today due to its unparalleled scalability and cost effectiveness. Furthermore, AWS features pay-as-you-go pricing as well as automatic scaling features.
IBM Cloud
Offering various IaaS, PaaS and SaaS services, IBM Cloud is ideal for businesses that must analyze large volumes of data – although its rigid approach may make it less suitable than alternatives.
Google Cloud Platform
Provides scalability while offering features like data encryption, automatic scaling and access controls. Oracle Cloud: A widely utilized multicloud platform offering machine learning capabilities but with integration issues.
Oracle Cloud
Cloud is one of the more commonly utilized multicloud platforms, and it features machine learning capabilities; however, integration problems exist.
Emerging Trends
The multicloud platforms are continuously evolving on a daily basis; however, some of the emerging trends of 2023 are as follows:
Hybrid Cloud Models: Another emerging trend as hybrid cloud models allow organizations to have the advantage of both public and private clouds.
Artificial Intelligence: With the help of AI, its possible for organizations to make informed decisions, advanced automation as well as predictive analysis. In the future, these technologies will be used even more.
Edge Computing: Edge computing technologies allows organizations to use the power of multi cloud infrastructure. Customer experiences can also be improved.
Blockchain: Decentralized apps and markets are getting more and more popular, so people will use blockchain even more.
Conclusion
Selecting the ideal b2b multi cloud platform has become an essential strategic decision. Provides many benefits like increasing operational flexibility, performance and reliability. Also increases data security with private or public cloud services. Businesses find it simple to allocate resources and invest in high-quality services. Yet selecting an effective B2B multi-cloud platform requires careful consideration. Key features to consider includes smooth data transfer, workload management, API support, security and compliance measures. Understanding single vs multi cloud strategies is also key when making informed decisions. Make sure all features are taken into account before making your selection decision.