If you are a businessman looking to expand your business in a local area, then hyperlocal social media marketing is an excellent strategy. Through hyperlocal social media marketing, businesses can connect with customers close to their physical locations. It allows them to deliver relevant information, enhancing engagement and conversion rates.
Businesses will strengthen neighborhood bonds and develop customer loyalty by focusing on local audiences. As customers want more relevance and authenticity, businesses are discovering that hyperlocal social media marketing is an excellent way to stand out.
What is Hyperlocal Social Media Marketing?
A hyperlocal social media marketing strategy is a marketing strategy. It emphasizes promoting a company's products or services in a specific geographic area. Small firms or business locations that profit from reaching customers in their vicinity frequently employ this sort of marketing. Hyperlocal marketing can be used by any business with a brick-and-mortar store.
Hyperlocal social media marketing entails developing content and messages that are especially suited to the interests and demands of the local audience and are delivered to the right people at the right time.
The Essential Elements of Hyperlocal Social Media Marketing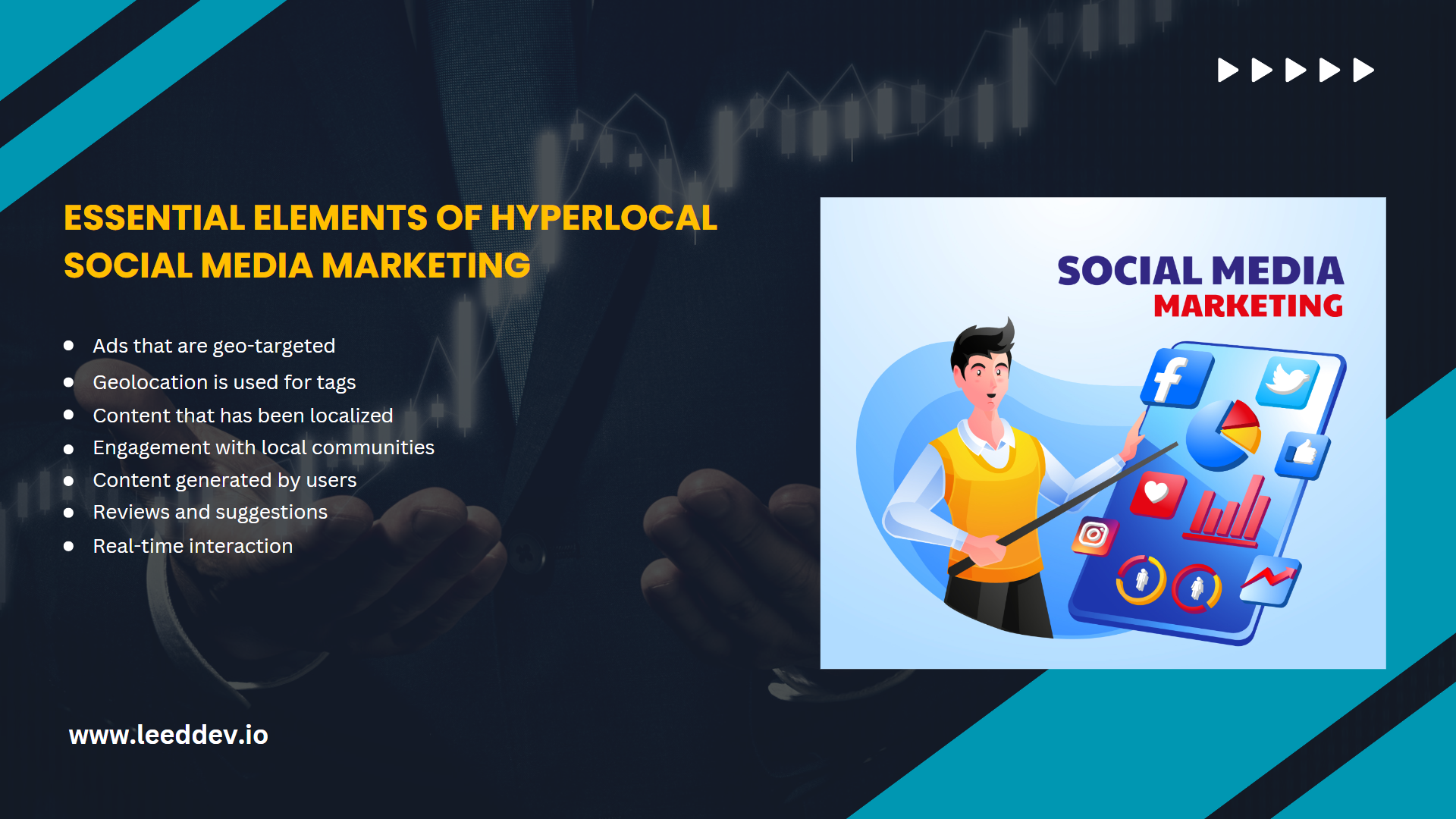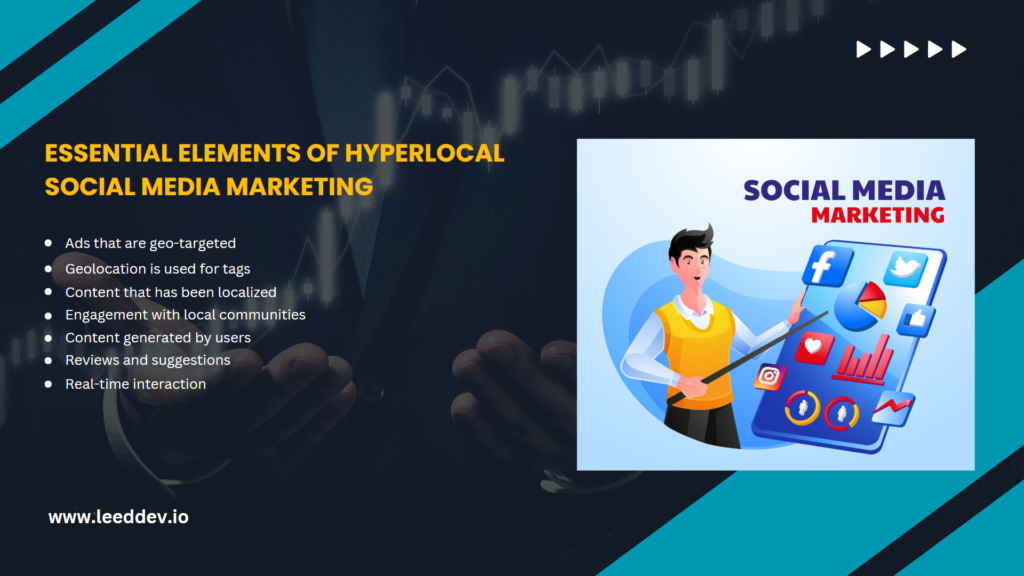 In general, the following are the primary components of hyperlocal social media marketing:
Ads that are geo-targeted
Geolocation is used for tags
Content that has been localized
Engagement with local communities
Content generated by users
Reviews and suggestions
Real-time interaction
Why is Hyperlocal Social Media Marketing Important?
According to Think With Google, 76% of people who performed a local search went to a linked business, and 28% of those searches resulted in a purchase. 'Near me' searches have increased dramatically in recent years.
Even without the 'near me' tag, searchers expect Google to consider their location and display the closest results first. It is one of the best digital marketing strategies.
Benefits of Hyperlocal Social Media Marketing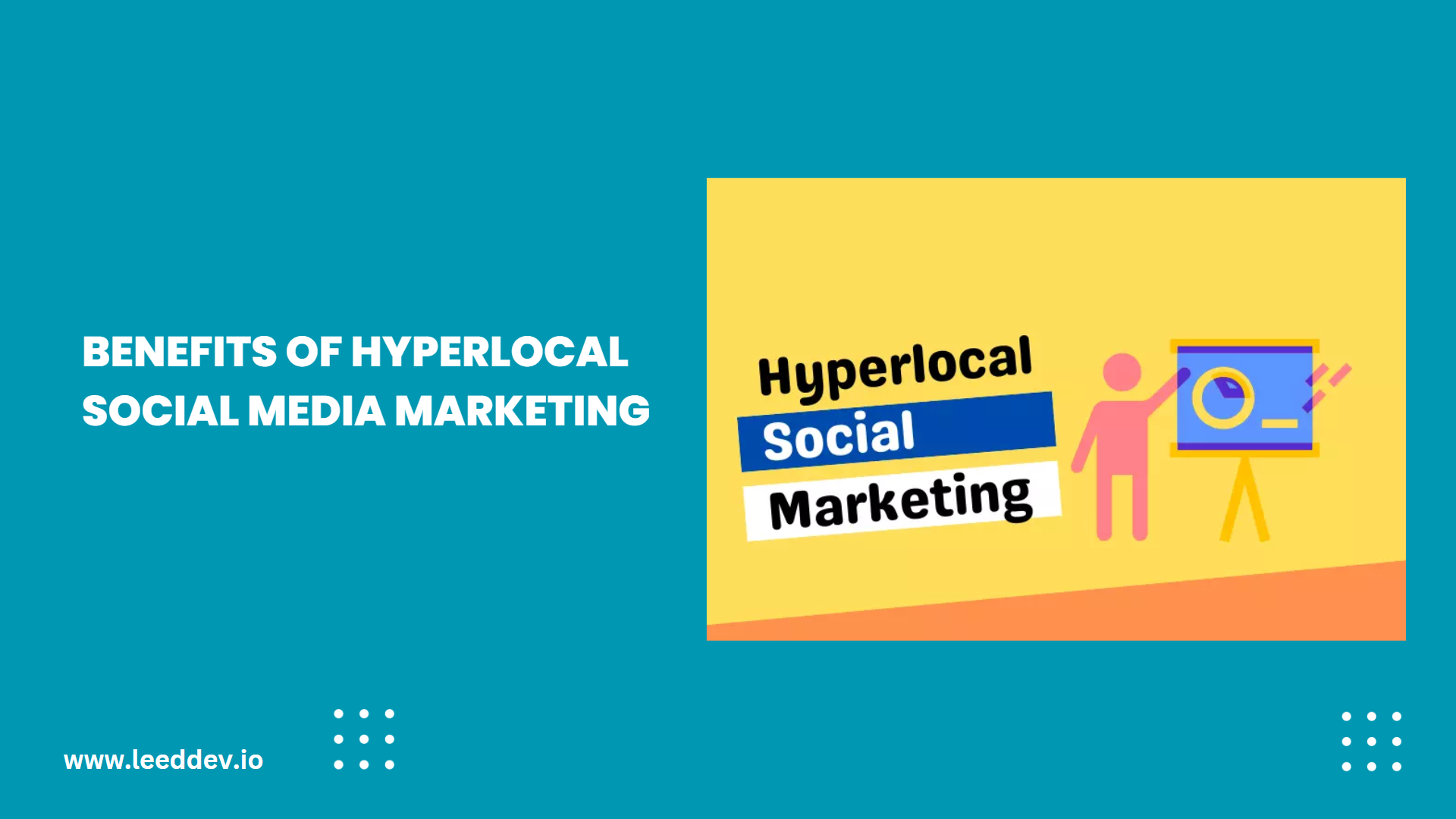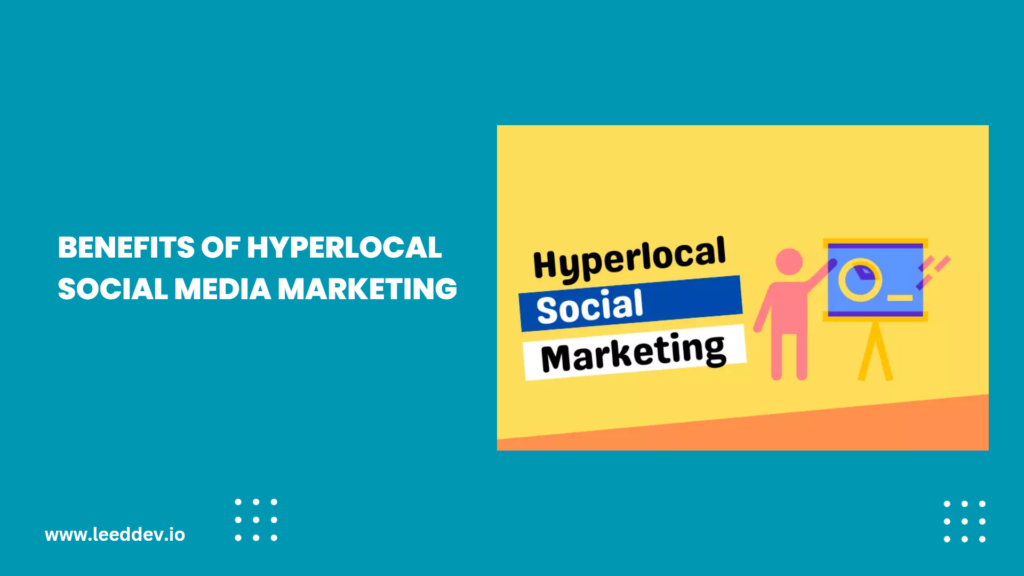 Here are some benefits of hyperlocal social media marketing to expand your business:
Improved Customer Engagement
Connect personally with your local audience to generate deeper relationships and brand loyalty.
Increased Foot Traffic for brick and mortar Businesses
Target local users for your business and encourage more potential consumers to visit in person.
Improved Relevance and Personalization
Tailor the material to local tastes, hobbies, and cultural subtleties, and your brand will become more relatable and engaging.
Reduced Ad Cost
By reducing your target demographic, you can focus your advertising budget on the most relevant group, resulting in more cost-effective campaigns.
Local Community Development
Create a sense of community and trust among customers, enabling them to become brand advocates and produce organic word-of-mouth marketing.
Hyperlocal Social Media Marketing Strategy
Before you start hyperlocal social media marketing, getting started takes work. Here are some steps for getting started:
Examine your position
Before you build and implement your hyperlocal social media plan, please consult with the management team to learn their thoughts on the strategy. There may be instances when you need to debate with them about why you should employ a hyperlocal social marketing plan. Conduct some research and convince them of the importance of having a hyperlocal marketing plan.
Make a plan
Before looking for a third party outside of your organization, look for a team within your organization that is working on similar projects. Discuss with the retail team, IT team, social media departments, and others to develop a plan to help you. After dealing with the people within your organization, you can look for influencers who can carry out influencer marketing campaigns on a local level, along with technological partners.
Design a hyperlocal marketing plan
After convincing the management team and developing a plan, you are now ready to construct your hyperlocal social media marketing strategy. The following are the steps to developing a strategy:
Determine your success metrics and gain approval from your management team.
Make your strategy available to all key parties.
Choose a technology partner who can keep up with the latest trends and changes in social media platforms.
Prepare yourself
Prepare to communicate your plans to your local partners and inform them of the roles they must play for the campaign to succeed.
Strategies for Hyperlocal Social Media Marketing Success
Businesses must use the correct techniques and strategies to be successful with hyperlocal social media marketing. Here are some effective hyperlocal social media strategies.
Identifying the Target Audience's Interests
Identifying the target audience's interests is critical in hyperlocal social media marketing. Creating content that encourages a sense of belonging by recognizing their local community's unique culture, trends, and requirements. Establish a solid and loyal consumer base in your neighborhood by remaining updated and adapting material to reflect local interests.
Paid Ads using Location-Based Targeting
Finally, with sponsored advertising, you can effectively reach a hyperlocal audience. Many social media sites allow you to target your ads to people within a certain radius of your business. In this manner, you can raise awareness and attract highly relevant customers.
Collaboration with Local Businesses and Influencers
Every town has a few people who everyone looks up to. You could invite them to your business and ask them to share their experience with their social media followers, or you could ask them to evaluate your items and services. You may invite them to your event so they can help you attract attendance.
Offer local deals and discounts
There are many websites and apps that let you create local deals and discount vouchers for your business. Make the most of these websites in your hyperlocal campaigns, as they can be a great way to drive more potential customers to your store.
Get online reviews 
For your products or services, customers want to see other customer reviews. They look at them in detail to check if you have real business, see problems you had, and see how you dealt with them. Don't hesitate to ask your customers to leave you a review on social media marketing pages.
Select the right platform for advertising
Select the right social media platforms to reach their target audience and achieve their marketing goals. For brand awareness, if you are looking to connect with local customers and drive sales, hyperlocal social media marketing is a powerful strategy. It can be highly effective when implemented on the right platform. There are a variety of platforms available, like Facebook, Twitter, Instagram, and LinkedIn.
Developing Content for a Local Audience
If you have your target audience and the right social media platform, they can be in the wild. It's time to create a social media content strategy that is tailor-made for your audience and resonates with them in a meaningful way. Make sure your content is appealing and varied.
Using Geotags and Local Hashtags
Geolocation tags are a great way to ensure that your social media posts show up in relevant searches for specific locations. They are particularly useful on platforms like Instagram, where the tags show up under the "Places" tab for different searches. If someone clicks on one of these location tags, it will display all the popular posts using that geolocation tag.
Get a Google My Business Profile
Listing your business on your Google business profile should be a top priority for your hyperlocal marketing campaign. Using Google My Business will allow you to show up on local business search results pages. You will get inquiries and leads from it, answer questions about your products or services, and promote your sales, promotions, and events.
Posting on a Regular and Consistent Basis
To expand your business, post on a regular basis and consistently. Attract locals through local events and posting regularly.
Conclusion
Now grow your business with social media marketing, personalized content, and geo-targeted ads, and connect with nearby customers. It improves engagement, builds consumer loyalty, and increases in-store traffic. Defining success criteria, engaging with local influencers, giving local specials, securing online reviews, and choosing the correct channels for marketing are all important tasks. It is critical to create content that resonates with the local audience, use geotags and hashtags, and have a Google My Business profile. In conclusion, hyperlocal marketing assists firms in thriving by connecting their immediate neighborhood and offering individualized, relevant information.