Have you ever wondered what all the buzz around social media marketing is about? Why is everyone so focused on social media networks? Time is changing. Social media has become a powerful tool for marketers.
There is much more to social media than posting on Facebook and Instagram. About 80% of consumers state that social media content greatly influences purchasing decisions. 
In this modern era of technology, innovation is the key to success. You need to find ways that differ from traditional marketing and bring innovation to your target audience.
So if you're ready to take your marketing to the next level, start incorporating social media into your strategy. Let's connect and explore how social media can help you achieve your business goals like never before!
What is Social Media Marketing?
It's a form of digital marketing involving social media platforms to promote brands, products, or services. It involves creating and sharing content on social media channels like Facebook, Twitter, and others. Social Media Marketing helps to engage with the target audience and build a following.
It typically involves a combination of organic content creation and paid to advertise. Social media includes various tactics such as influencer marketing, social listening, and community management. The goal is to increase brand awareness, drive traffic to your website, generate leads, and, ultimately, drive sales.
Importance of Social Media
Social media provides opportunities to reach a wider audience and build brand awareness. With the help of social media, businesses can reach potential customers they can't reach through traditional marketing channels. Companies can interact with customers in real-time, provide support and respond to inquiries. This builds trust and loyalty with customers, which benefits long-term relationships.
Compared to traditional marketing methods, social media marketing is comparatively inexpensive. This makes it the best option for businesses that have limited budgets. Social media platforms provide targeted advertising options. This allows businesses to reach their ideal customer with precision. Overall, social media is a highly effective way for businesses to reach and engage with their target audience.
Benefits of social media
To give an overview, the main advantages are:
Improved brand recognition and awareness
Social media provides a platform for businesses to increase brand recognition and awareness by reaching a wider audience. There are about more than 4.7 billion people using social media worldwide. Because of this, businesses have the potential to reach a vast number of potential customers.
Improved customer engagement and loyalty
Social media allows you to engage with your customers, respond to questions and concerns, and provide customer support. This builds the factor of trust and loyalty, leading to long-term relationships with your clients.
Cost-effective marketing
Compared to traditional marketing methods, social media marketing is a much more cost-effective method. Businesses can create and distribute content without spending high costs. This makes it an accessible option for businesses of all sizes.
Targeted Advertising Options
Social media platforms provide advanced targeting options. This will allow businesses to target their ideal customer with ease and precision. In return, businesses will result in higher conversion rates and a better return on investment.
Valuable Insights
Social media platforms provide valuable insights into customer behavior, needs, and preferences. Businesses can use this information to optimize marketing efforts and improve overall business strategy. This will help businesses to create highly targeted marketing campaigns to reach their ideal customer.
Increased search engine rankings and website traffic
Another usage is that social media can drive traffic to a business's website. This results in higher search engine rankings. Businesses can improve their search engine optimization (SEO) and increase their online visibility by regularly sharing valuable content.
Increased Revenue
You can increase your revenue and sales by building brand awareness, providing valuable content, and engaging with customers. In fact, a study was done by Sprout. He found that 75% of people have purchased something because they saw it on social media.
Competitive Advantage
Social media can provide a competitive advantage by allowing businesses to reach their audience in a way that their competitors can't. By using the power of social media, businesses can set themselves apart from their competitors. This will make them stand out in a crowded marketplace.
What is Social Media Marketing Strategy?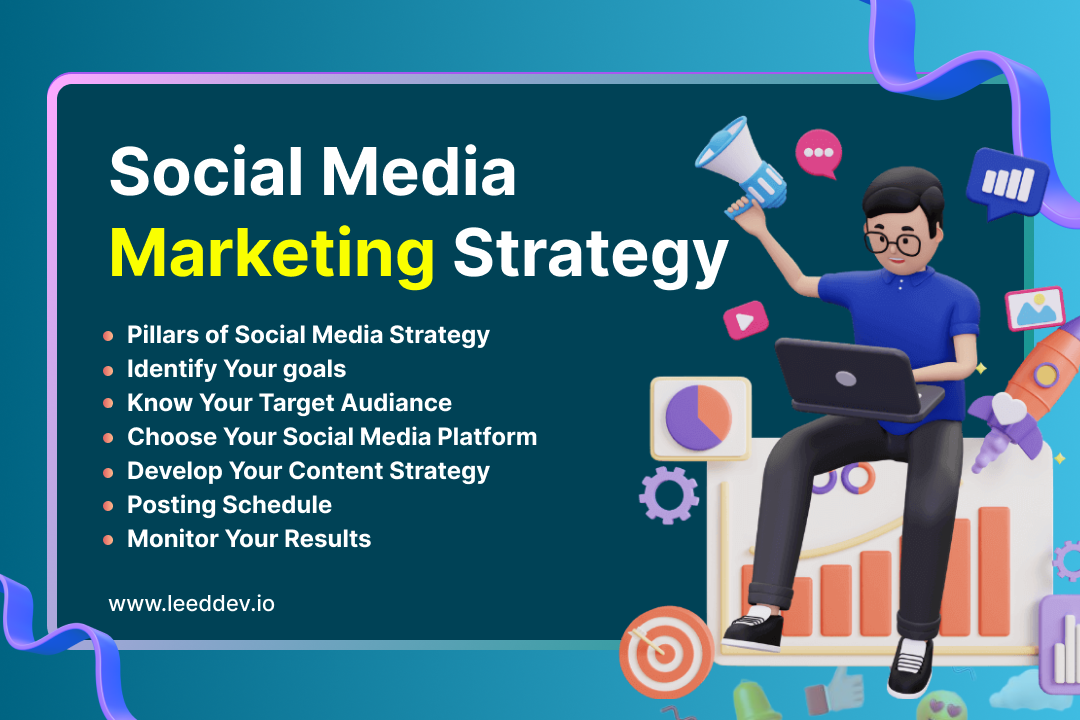 A social media strategy is a comprehensive plan that outlines how a business will use social media platforms to achieve its marketing goals. It involves creating and sharing content and engaging with followers. The last step you need to follow is to use social media advertising to reach a target audience. Now let's discuss how to create this marketing strategy.
Pillars of Social Media Strategy
Creating a social media strategy involves several key steps. The main steps are:
Identify your goals
The first step in creating a media marketing strategy is to define your goals. The first question that arises is, What do you want to achieve with your social media presence? The common goals include increasing brand awareness and driving website traffic.
Know your Target audience.
You need to understand your target audience and their social media behavior. This includes knowing which social media platforms they use when they are most active and what type of content they engage with.
Choose your social media platforms.
Based on your goals and target audience, choose the social media platforms that are most relevant for your business. The common social platforms used are Facebook, Instagram, Twitter, LinkedIn, and TikTok.
Develop your content strategy.
Identifying the types of content you will create. Choose whether you want to write blog posts or add videos. Create a content strategy that will align with your goals and audience. Choose the topics you will cover and the frequency of your posts. Use relevant hashtags. Hashtags are a widespread tool that people use to add meta information on social media channels
Posting schedule
Develop a posting schedule that aligns with your content strategy. Take into account the best times to post on each social media platform. This will increase your audience.
Monitor your results
Finally, it's necessary to monitor your social media performance and measure your results continuously. Use different analytics tools to track metrics such as engagement, reach, and conversions. Adjust your strategy as needed based on your performance. These steps will help you reach your potential customers effectively.
Best Social Media Marketing Platforms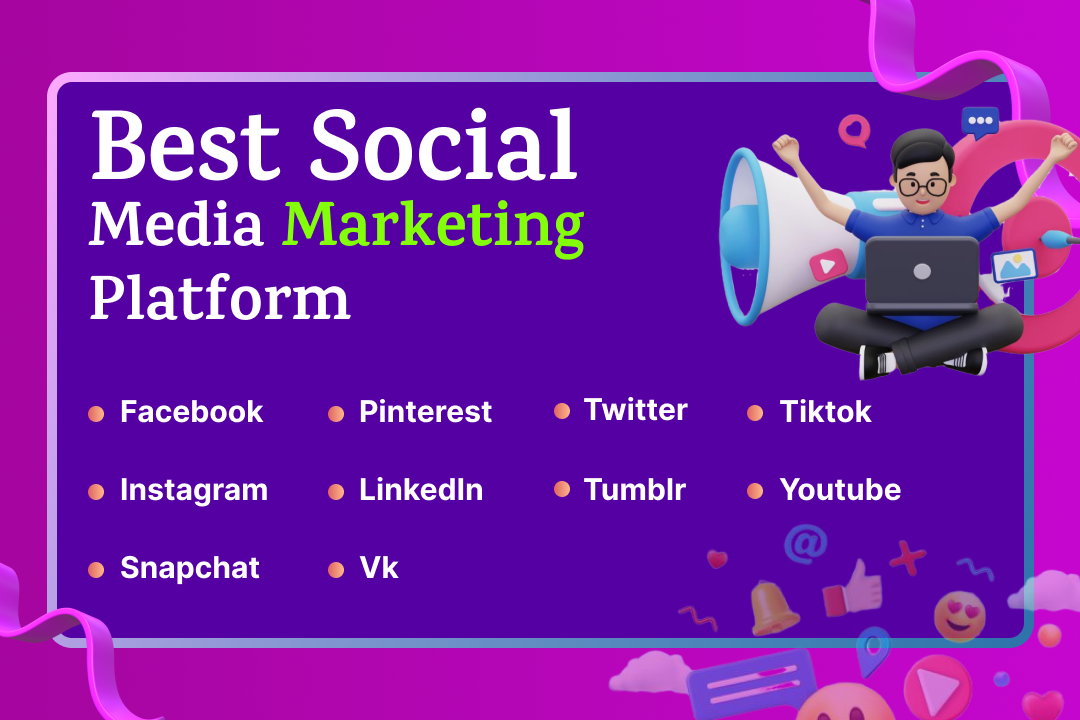 If you own a business and you're looking for marketing platforms, then you've come to the right place. We will discuss different platforms that are being used nowadays.
Facebook has the largest user base of all social media sites. This means that it's a great place to market your business. The platform has a range of different advertising options that you can use. Facebook is a social networking website that was launched by Mark Zuckerberg in 2004. Since then, the site has seen explosive growth. Since its launch, it has become a valuable tool for B2C businesses. 
Users: 2.93 billion monthly active users worldwide
Target Audience: An even spread of Generation X and Millennials
Industry impact: B2C
Best for: Brand awareness; advertising
Pinterest is a platform that allows users to save, discover, and share images and videos that align with their interests. Users can create virtual pinboards on their accounts and add images, called "pins," to their boards. These pins can be sorted into categories such as travel, home decor, food, fashion, and many more. Users can follow other users' boards to discover new content that they find inspiring.
Users: 445 million users worldwide
Target Audience: Millennials, mostly users are women
Industry impact: B2C
Best for: Visual Advertising, for Inspiration
Twitter is a great platform to get your content out there and to get other people's content as well. It can help you interact with your customers or even help you grow your business. It's a popular social media platform that helps businesses connect with current and potential customers.
By creating a Twitter account and tweeting relevant and interesting content, you can build a following of engaged users. Twitter can be used to promote special offers and deals and provide customer service. In addition, Twitter can be a great way to connect with other influencers and businesses in your industry.
Users: 353.90 active users worldwide
Target Audience: Primarily Millennials
Industry impact: B2B and B2C
Best for: Customer service, Public relations, Community building
TikTok is a social media platform that allows users to create, share, and discover short-form videos. The videos typically range from 15 seconds to one minute in length. It has become incredibly popular, particularly among younger audiences. Because of its success and popularity, it is available in more than 150 markets and 75 languages. Users can create videos and can also add hashtags to help their content reach a wider audience.
Users: 834.3 active users worldwide
Target Audience: Gen Z
Industry impact: B2B and B2C
Best for: Customer service, Public relations, Community building
In this digital marketing age, Instagram has become a dominant force in our lives. With its influence, Instagram has changed not only the way we interact with each other but the way businesses communicate with their audiences. It has also changed the way we perceive ourselves. Since its launch in 2010, Instagram has become one of the most widely used and influential social media platforms. Its design and purpose have changed the way people interact with one another, both online and in person.
Audience: Millennials
Industry impact: B2C
Best for: Promotion, Marketing, High-quality images and videos, advertising, user-generated content
The internet has revolutionized how professional networks promote their skills and expertise. One of the most powerful tools for this purpose is LinkedIn. It's an online platform designed to help professionals build relationships and showcase their skills, experiences, and achievements. The use of LinkedIn as a professional networking platform has become increasingly popular over the past decade.
LinkedIn is also advantageous because it allows professionals to connect with people in their industry with ease. You can get access to a variety of resources, such as job postings, industry updates, and career advice. Additionally, LinkedIn provides a professional image that allows users to showcase their achievements and experience. This is beneficial for those seeking to boost their reputation and increase their visibility in their field.
Users: 134.5 million active users on LinkedIn.
Audience: Generation X and Millennials
Industry impact: B2B
Best for: Business development, B2B relationships
Tumblr is a microblogging platform that allows users to share short-form blog posts, videos, and other types of media. It was created in 2007 and has since become a popular platform. Users can create their own blogs, which can be customized with various designs and themes. Users can also reblog or share posts from other users, creating a highly interconnected social experience.
Users: 291.7 million active users worldwide.
Audience: Generation Z and Millennials
Industry Impact: B2C
Best for: Business development, Social Networking services
OK.ru which is also known as Odnoklassniki. It's a social networking service that is particularly popular in Russia and other countries of the former Soviet Union. It was launched in 2006. The purpose of ok.ru was to help people reconnect with their classmates from school. The platform has since expanded to include a variety of features, including messaging, groups, pages, and games. Users can share photos, videos, and status updates. It also allows users to join communities related to their interests or profession.
Users: 200 million registered users.
Audience: Millennials
Industry impact:
Best for:
VK is short for Vkontakte. It's a social media platform that is particularly popular in Russia and some other countries. It was launched in 2006. Initially, it was intended as a social networking site for students at St. Petersburg State University. VK has since grown to become one of the largest social media platforms in the world. The platform allows users to create profiles, and share content such as photos, videos, and links. You can also communicate with friends and other users through messaging and comments.
Users: 100 million active users.
Audience: Primarily Millennials
Industry impact:
Best for:
Social media platform that allows users to upload, view, and share videos. YouTube was founded in 2005 and has since become one of the most popular websites in the world. YouTube is the second most visited website in the world. In addition, it's the best platform to build community. The users also tend to stay longer on it because it features mostly long-form content. This makes it an ideal platform for sharing educational content. YouTube is a great platform for users to share their videos and connect with other users. 
Audience: Mostly Millennials, but has a strong audience that differs in gender and age demographics
Industry impact: B2C and B2B
Best for Brand awareness, long-form entertainment, and how-to videos
Snapchat is a multimedia messaging app that allows users to send and receive photos, videos, and messages. The app was first released in 2011 and has since become popular among younger generations. It's a way to share content with their friends and stay up-to-date on the latest trends and news. Snapchat offers a variety of features, including filters, stickers, and lenses that allow users to personalize their content. Users can also create and share stories. It also has a feature for disappearing messages. The messages disappear after 24 hours.
Audience: Primarily Generation Z
Industry impact: B2C
Best for Brand awareness, Advertising
Conclusion
In conclusion, social media marketing is much more than just posting pretty pictures or tweets. It's a powerful tool that can help businesses of all sizes reach and engage with their target audience. It's also a cost-effective way as compared to traditional marketing ways. By creating a comprehensive marketing strategy that aligns with their goals, businesses can build brand awareness and drive sales.
Social media also provides valuable insights into customer behavior and preferences. As social media platforms continue to evolve, now it's more important for businesses to prioritize social media for marketing. Overall, social media marketing presents a unique opportunity for businesses to connect with their customers in a meaningful way. Businesses can build a strong online presence that can help them achieve their marketing goals.
See more
FAQs
Q No.1 What is a social media marketing strategy?
Answer: Social media marketing is the process of using social media platforms to promote a product or service. It involves creating and sharing content, engaging with your audience, and analyzing your results.
Q No.2 How has social media changed marketing strategies?
Answer: Social media has revolutionized marketing strategies by providing new ways to connect with customers. In the past, marketing was a one-way conversation. Social media has changed marketing by enabling two-way communication, allowing brands to engage with their customers.
Q No.3 How to build a social media marketing strategy?
Answer: Building a social media marketing strategy involves several steps, including:
Defining your goals
Identifying your target audience
Creating a content strategy
Engaging with your audience
Analyzing your results
Q No.4 Effective advanced social media marketing strategies for brand boosting?
Answer: Here are some advanced social media marketing strategies for boosting your brand:
Use social media advertising
Collaborate with influencers
Use video content
Run social media contests
Personalize your content
Q No.5 How to leverage social media influencers for enhancing a brand's online presence?
Answer: Working with social media influencers can be a highly effective way to enhance your brand's online presence. Here are some tips for leveraging social media influencers:
Look for influencers who have a following that aligns with your target audience.
Clearly define what you want to achieve and communicate your goals and expectations to the influencer.
Work with the influencer to create content that resonates with the audience.
Track the success of your influencer campaigns and adjust your strategy based on your results.
Q No.6 Role of hashtags in social media marketing and how to use them for brand promotion?
Answer: Hashtags play an important role in social media marketing by helping businesses increase their reach and visibility. It allows users to search for content related to a specific topic. To use hashtags, businesses should research and use relevant hashtags in their social media posts, monitor their effectiveness, and engage with users who use those hashtags.
Q No.7 Tips for creating engaging social media content that resonates with the target audience?
Answer: To create engaging social media content that resonates with your target audience, here are some tips:
Conduct market research to understand your audience's interests, pain points, and behaviors.
Use eye-catching images, videos, and infographics to capture your audience's attention.
Social media users have short attention spans, so keep your content concise and to the point.
Offer helpful tips, insights, or information that your audience will find useful and informative.
Stay up-to-date with current events and trends to keep your content relevant and timely.
Q No.8 How to use data analytics for measuring success of social media marketing campaigns?
Answer: Data analytics can help businesses measure success by providing insights into the performance of their posts, engagement rates, and follower growth. By tracking metrics such as click-through rates, conversion rates, and social media ROI, businesses can adjust their strategies accordingly.
Q No.9 Common mistakes to avoid in social media marketing and how to prevent them?
Answer: Common mistakes in social media marketing include not having a clear strategy, neglecting to engage with followers and using irrelevant hashtags. Not targeting the right audience, and posting too frequently or infrequently is also an issue.
Q No.10 How to integrate social media into your marketing strategy?
Answer: To integrate social media into a marketing strategy, businesses should first identify their target audience, choose appropriate social media platforms and develop a content strategy. Monitor and analyze social media metrics and adjust their strategies based on their performance.